Tourist Maps of Myanmar (TMM-55) သည္ March 2016 တြင္ ထြက္ရွိေတာ့မည္ျဖစ္ပါသျဖင့္ မိမိတို႔လုပ္ငန္းေၾကာ္ျငာမ်ား ပါ၀င္ထည့္သြင္းႏိုင္ရန္အတြက္ DPS Co., Ltd. Tel : 01 20 40 20, 09 775 20 40 20 သို႔ ဆက္သြယ္၍ ေၾကာ္ျငာမ်ား ပါ၀င္ထည့္သြင္းႏိုင္ၿပီ ျဖစ္ပါေၾကာင္း Customer မ်ားအား ေလးစားစြာ အသိေပး အေၾကာင္းၾကားအပ္ပါသည္။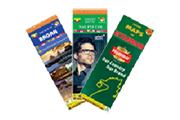 ASEAN Tourism Forum (ATF - 2015) ကို 22.1.2015 မွ 29.1.2015 ထိ Myanmar International Convention Centre (MICC) ေနျပည္ေတာ္တြင္ က်င္းပမည္ျဖစ္ရာ DPS Co., Ltd. မွ Tourist Maps of Myanmar ေစာင္ေရ (၁) ေသာင္း၊ The Map of Bagan ေစာင္ေရ (၁) ေသာင္း၊ Tourist Map of Nay Pyi Taw ေစာင္ေရ (၁) ေသာင္းစီ ျဖန္႔ခ်ိမည္ျဖစ္ပါသည္။ ရန္ကုန္၊ ေနျပည္ေတာ္၊ ပုဂံ ေလဆိပ္မ်ား၊ ဆိုင္မ်ားႏွင့္ Myanmar Tourism Federation Booth တို႔တြင္ ရရွိႏိုင္ပါမည္။
Latest News
ASEAN Tourism Forum (ATF - 2015) ကို 22.1.2015 မွ 29.1.2015 ထိ Myanmar International Convention Centre (MICC) ေနျပည္ေတာ္တြင္ က်င္းပမည္ျဖစ္ရာ DPS Co., Ltd. မွ Tourist Maps of Myanmar ေစာင္ေရ (၁) ေသာင္း၊ The Map of Bagan ေစာင္ေရ (၁) ေသာင္း၊ Tourist Map of Nay Pyi Taw ေစာင္ေရ (၁) ေသာင္းစီ ျဖန္႔ခ်ိမည္ျဖစ္ပါသည္။
ရန္ကုန္၊ ေနျပည္ေတာ္၊ ပုဂံ ေလဆိပ္မ်ား၊ ဆိုင္မ်ားႏွင့္ Myanmar Tourism Federation Booth တို႔တြင္ ရရွိႏိုင္ပါမည္။
DPS PUBLISH TO THE MAP OF YANGON - MOY 2009-2010 (4th Edition)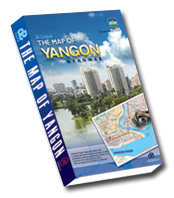 A New 4th edition of the Map of Yangon (MOY 2009-2010) atlas published in December 2009 by the Yangon City Development Committee and Design Printing Services (DPS).
View Map Data
Advertiser List in The Map of Yangon - MOY 2009-2010 (4th Edition)
Software Application Products introduced by Myanmar companies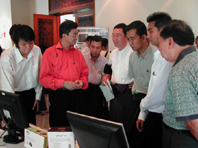 On 26th January 2008 at TRADERS HOTEL, Cho Cho Co. Ltd accompanied by Myanmar Accountancy& Training Ltd and Design Printing Services had made Software Application Product Launch Seminar. At the Showtime Choc Cho Co. Ltd manager U Wai Phyo Linn introduced about the products and explained about them in detail. First product is Retail Management System. This software application can be used in the processes and activities of Retail and Wholesale Businesses. Functions are counting, checking, paying, administration. The second product is about the Route Tracking System. Everyone can track a vehicle equipped with this system. That is why a nearest route can be choosed and can slice down the amount of fuel oil. The last product is Barcode reader. This product will be useful f or all employers because a web Cam connected with barcode reader can save an image confirmed by barcode reader.
DPS to publish new Yangon atlas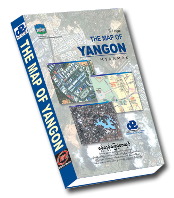 A New edition of the Map of Yangon atlas will be published in November by the Yangon City Development Committe and Design Printing Services (DPS), which will feature 200 detailed maps based on satellite photogarphs. Daw Myint Myint Maw, the marketing manager of DPS, told The Myanmar Times that the company planned to print 20,000 copies of the altas. The maps will cover the Yangon municipal area and its environs, including the Thilawa Special Econiomic Zone, Hlaing Industrial Zone, Dagon MyoThit, Thaketa, Thanlyin, Kyauktan and Dala. "The names of circular roads, major east-west and north-south thoroughfares and famous places will be marked on the maps in Myanmar and English," Daw Myint Myint Maw said. "There will also be an index to streets and places at the back of the book." DPS published the first Map of Yangon in 1996 and has released serveral editions since then. In 2000 the company introduced the dpsmap.com website which featured information on hotels and tourism, popular destinations and other information about Myanmar.